Good morning and Happy Wednesday! You probably noticed Dunwaetin has a new look today. I found a layout that had the clean lines I prefer and finally got around to updating the Past Blogging Lives link at the top of the page.
Winter is almost here, it's a chilly -7C (19.4F) this morning and I had to dig out Little's winter coat. Perfect weather for hearty soups and stews served up with dark red wine. That is exactly what I had for dinner yesterday so without further adieu here is my Tuesday eats for What I Ate Wednesday hosted by the lovely Peas and Crayons.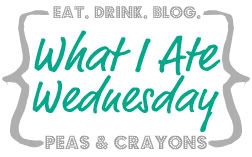 Pre-run breakfast smoothie with strawberries, banana and cashew butter. How did I not know about cashew butter until now? It has replaced peanut butter in my smoothies and I may have eaten it directly from a spoon!
Post-run omelette with spinach, tomato and cheese.
Lunch was left-over Lamb Ribs (recycled pic from yesterdays post).
Cheese, almonds and Honey Crisp apples for an afternoon snack.
Dinner was Cabbage Soup (NOT the diet kind) from my mum's recipe that I will be sharing later next week. Little was a bit apprehensive because there is CABBAGE in the soup so we turned dinner into a game. I offered him 100 points for a small spoonful, 1000 points for a medium spoonful, 100000 points for a large spoonful and 1 Gazillion points for the biggest spoonful he could fit in his mouth. The bowl was empty and Little walked away with 2 Gazillion, 3 hundred and ninety-five thousand 500 points. Don't ask me what the points get you because I have no idea however it did help Little finish his dinner.
Cabernet Merlot blend to wash it down. Delicious!
Coconut flour cookies. So simple yet divine! I broke away from the "no sugar" to snack on these delightful little bites of heaven. I will be sharing this recipe next week on Trial Tuesday.
So there you have it, my Tuesday eats for WIAW.
—————————————-
What are you eating today? Any new foods?
Do you have trouble getting you kids to try new things? What have you done to encourage them?
No kids? Do you try new foods or do you stick to what you like?